The Do's and Don'ts of Hair Brushing
---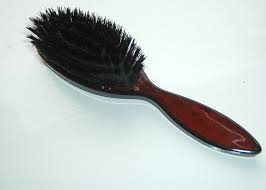 The hairbrush is one of the most essential tools every person, man or woman, should have. A hairbrush helps in dealing with tangles and bed head look.  To some extent it even solves the problem of hair styling.  But the greatest thing that can be done with a hairbrush is keeping our hair naturally moisturized as you transfer natural skin oil from the roots to the tips of the hair when brushing. To help your hair grow healthy and shiny, you should brush your hair every day with careful gentle strokes that decrease the friction and smooth the hair scales.  Harsh and rough brushing will only increase the damage to your hair.  Moreover, such brushing increases the amount of pulled out hairs in two times.  The proper use of your hairbrush is essential for hairstyles as it helps to avoid unnecessary damage, eliminates static electricity, and adds shine and smoothness to your hair.
There are several hairbrushes that should be at hand when creating and maintaining your hairstyles:
1.   A wide-toothed comb for detangling your hair before and after washing. Every time you are preparing to wash your hair you should detangle it first with a proper gentle brushing.  This will help lessen the risk of damage during washing and make the after- washing detangling easier eliminating more damage.  Such combs should be made of antistatic material, so read labels carefully and make sure you won't harm your hair with a poor quality comb.
2.   A fine-toothed tailed comb for styling.  You should use this comb when doing heat straightening using a flat iron.  Just follow the flat iron with a fine-toothed comb to make sure that there are no tangles and frizz left in your hair after straightening.  The tail of the comb will be handy in creating prom hairstyles and dividing hair into separate tresses for straightening.
3.   A massaging wooden hairbrush will help you to massage your scalp after you have detangled your hair and are preparing to sleep. Using this brush at least twice a week will help you increase the blood circulation in the scalp and improve the state of the hair cuticle after a couple of months of usage.
4.   A boar bristle round brush for styling. This hairbrush is a must for short to medium hairstyles. It helps to obtain a neat and sleek hairstyle.  Boar bristles eliminate frizz and add shine to your hair.
5.   A ceramic styling hairbrush is good for medium to long hairstyles because it helps to manage long hair and eliminate static electricity. You will even be able to create soft waves that will frame your face and make it look fantastic.
The hair combs and brushes mentioned above should be high quality so that your hair won't suffer from harmful materials or faulty workmanship.  It is also recommended to wash combs with warm water at least once every month to eliminate product build up.
To brush your hair correctly, follow these simple rules:
1.  Before washing your hair, use a wide-toothed comb. If you have a long hair, start from the tips and move gently to the top of the hair. Do not pull the hair or comb too energetically, or you will lose healthy and mature hairs that hold firmly in your scalp. If your hairstyle is short just move the brush through your hair from the roots to the tips to eliminate frizz and arrange your hair before washing.
2.  After washing, do not brush your hair while it is still wet. Your hair should be damp when you start to detangle it or you will likely lose more healthy hair.  Don't be afraid to see hair on your brush as long as you didn't feel any pain during brushing.  It is a natural process of hair growth when up to 100 hairs are falling out every day to create space for more new and young hair.
3.  If you are using a blow dryer often, you should use round brushes of 100 per cent boar bristle for styling of the short hair, and ceramic round brushes for styling of the long hair.  Such brushes will make it easier for you to style your hair, add shine to your hair, and help you to arrange the hair into any style from spikes to soft waves.
4.  If you are using a flat iron, you should start straightening from the bottom of the hair.  Separate the bottom layer of the hair from the top layers, and pin up the top layers using the tail of the fine-toothed comb. Straighten the bottom layer of hair and proceed with the upper layers until you are finished.  Every time you apply flat iron to the separate tresses follow the flat iron with the comb to make sure that there are no tangles left.
5.  Before going to bed, use the massaging brush. Detangle your hair first, and then gently brush, especially the root area to improve blood circulation and allow your head to relax after the long day of styled hair. You will see positive results of such techniques after just a couple of months. Your hair will look healthier and shinier, your scalp will receive more nourishment through improved blood circulation, and if you have problems with hair falling out, they will be diminished.
So, hair brushing, using the separate science and knowledge of its rules will help you decrease the amount of money you spend on hair care products.  Moreover, the state of your hair health will improve dramatically and your hairstyle will receive status because of the natural shine and smoothness of your hair.