MoreHair™ Hair Additions for Women with Thinning Hair
Now Giving Women A Better Choice.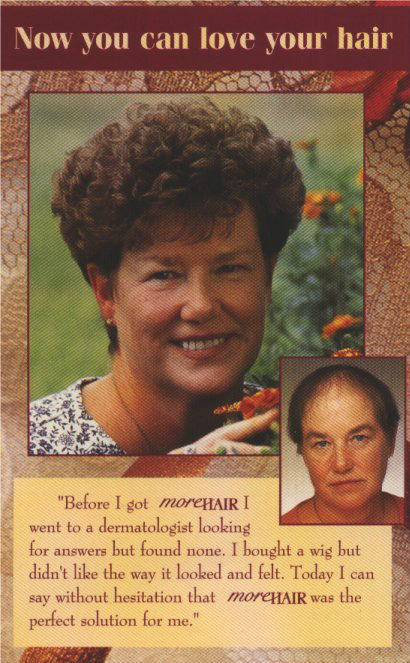 Women with thinning hair had precious few options in the past. There's the standard, machine-made wig, of course. But wigs provide full coverage of the entire scalp. The problem is that the majority of women with thinning hair are just that: thinning, not bald. Why cover up the hair you have, or receive more coverage than you really need?
Of course, trying to tease and style the hair you do have to give the appearance of increased volume is certainly an option. But one that rarely results in a look that's flattering to most women. Finally, there's the scarf, which is fine to run errands in, but hardly appropriate for most social and work situations.
The deep, dark secret
Women's hair loss is nothing new. Nor is it more prevalent today that it was fifty years ago. So why do women have such limited choices?
This question is especially vexing when you consider how essential appearance is to a woman, as well as the importance many women attach to hair (as in, "having a good hair day"). Many believe that it's the strong association with femininity that women attribute to hair, as well as the incorrect assumption that "women don't go bald", that has caused the subject of women's hair loss to be essentially forgotten and ignored by all except its sufferers.
You've got company
Did you know that over 20 million American women suffer from hair loss? Not just older women, either: 10 million are under 40. It's Estimated that another 40 million women suffer from what is termed "problem hair", that is hair that is unusually fine, or sparse or hair that just won't grow to any appreciable length.
Women's hair loss is different
How a woman loses her hair is exclusive to the female gender. Yet at the same time, women's hair loss patterns can vary greatly from woman to woman.
For example, some women experience thinning in the frontal area alone; others experience diffused hair loss just on the top of the head. Then there are those whose hair thins over the entire scalp. Whatever the pattern, the reason for thinning hair in the great majority of cases is androgenic, that is hormone related, in short, a genetic condition. Other causes can include eating disorders, yo-yo dieting, and pregnancy.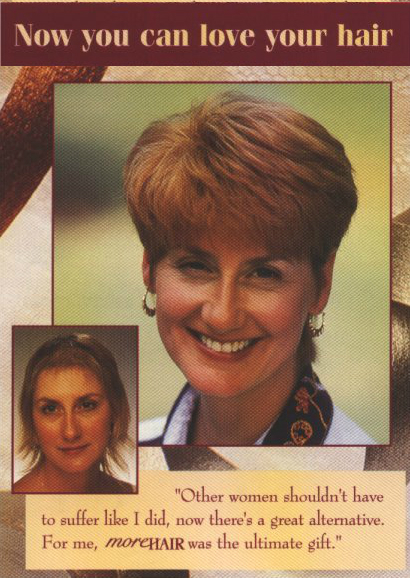 MoreHair ™ is a different solution
MoreHair ™ is different, quite literally, because it encompasses a variety of ways to add hair to your scalp based on your particular hair loss condition. MoreHair ™ works as well for the woman with minimum amount of hair loss in her hairline as it does for the woman whose entire scalp is thinning.
Presenting the concept of hair addition
Until now, most women's solutions were in the area of hair supplantation. That is, the focus was solely on replacing the entire area where hair loss occurred, no matter what the degree of hair loss; and usually with a standard machine-made wig.
Hair addition, such as the MoreHair™ method, is another story. The idea is very simple: use the women's existing hair to the fullest extent possible, adding more hair to fill in around, and in between, the natural growing hair.
The advantage of MoreHair ™
Because MoreHair ™ is a hair addition process; several advantages accrue to the woman who chooses this procedure. First, only as much hair as is needed is added. This allows the existing hair to be utilized, and seen, to the greatest possible extent, resulting in a far more natural look. Using less hair to fill in thinning areas also allows the new hair to blend in more easily with your existing hair.
MoreHair ™ is beautiful hair
The quality of the hair itself is of vital importance when considering hair addition. Only the finest human hair is used in the MoreHair ™ procedure. Unlike "wigs" hair, which is usually synthetic fiber, MoreHair ™ is different: it's supple; it bends and curls; and it falls back into place again. Just by touching the hair, feeling its silken quality, and realizing how full of bounce it seems, one fact becomes so very apparent: styles achieved with MoreHair ™ end up looking more natural because the human hair itself starts out being more natural.
Actualize your true appearance
Now for the hardest part of having MoreHair ™: Which style will you look best in? Think about it. For the first time, you'll have a real choice. Insufficient hair volume or the necessity to cover bald spots won't limit you ever again. Because you'll have enough hair to wear your hair the way it was intended: bringing out your best features and softening those that are less flattering.
Whether the look that best suits you is realized with a conservative style or a glamorous cut, or anything and everything in between, you'll be able to achieve the appearance you're most happy with. All you need is MoreHair ™.  And all you need to do to end your concerns about thinning hair is to call us for your free appraisal of how MoreHair ™ could possibly help you restore the look you've always wanted. During your free consultation, we will tell you what MoreHair ™ can do for you and your particular thinning hair problem and what results you can hope to achieve. As you'd expect, this meeting will be conducted in total privacy and with complete confidentiality.